Investing
My Entrepreneurial Lessons: Part I
13th October 2009
The current recession saw a lot of people find themselves on the unemployment line. Although I chose to take a package and leave, I could be considered a victim of the economic downturn. However, instead of get depressed about it I was very excited because for four years I was exploring the world of entrepreneurship already. So when it was crunch time, I was quite happy to leave. The road as a small business owner however, has not been rosy and I learn something new everyday. This is the first in a seven part series of lessons on the key lessons I have learned that I believe every entrepreneur should know.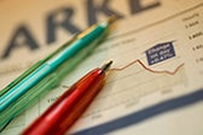 The most important lesson is that you need to understand your dream or vision. This makes it easier to map out a plan which ultimately shapes the vision into reality. It makes your vision easier to break down into action steps and makes the vision achievable. All this is great but how does one get to a point where they can map out a plan to achieve their vision? For me it all began with a dire need. I realized early on that working for someone would never give me the kind of financial freedom and lifestyle that I really wanted. Once I realized that, it took discipline to actually start taking action to make my dreams a reality.
A lot of books I have read, and a lot of business men and women will tell you that for as long as you do not take action, nothing will happen and you will not start a business as with anything else in life. I totally agree with them. However, for me action is the next step. It takes discipline firstly. Why do I say so? Discipline will lead you to take action and it will keep you committed to whatever it is you want to achieve and do.
So the first lesson and quality to possess on your path to entrepreneurship is discipline. It will cause you to take action, fuel your passion and keep you hanging on when the going gets tough. Believe you me, as entrepreneur, the going does get tough before you reap rewards.
"If we don't discipline ourselves, the world will do it for us. " - William Feather
Comments (1):
Jen Says: So true. Lack of discipline thereof leads to problems so to speak | 10.13.2009 |
Add Comments Here: